At the beginning of the summer, ten weeks sounded like a very long time. However, as I prepare to begin my last week at Equality Ohio, a statewide organization that advocates and educates to achieve fair treatment and equal opportunity for all Ohioans, regardless of their sexual orientation or gender identity or expression, I find myself marveling at just how quickly the weeks have gone by.
From my very first day at Equality Ohio, when my boss pulled up to the curb, announced we were changing plans, and drove me to a last-minute meeting, my ability to be flexible has consistently proven to be one of the most important traits I bring to the job. Equality Ohio is a small organization in terms of staff, but a huge organization in terms of impact. The flexibility and adaptability of everyone on the team is what allows them to accomplish so much. I have worked at nonprofits that serve the LGBTQ community before, but my experience at Equality Ohio has been unique for many reasons, not in small part due to the dedicated, passionate and welcoming staff that I have had the opportunity to work with. Everyone at Equality Ohio truly believes in the organization and in its mission, and this shows in their work – both on a broad scale and on the day-to-day level. The breadth of issues and projects that Equality Ohio works on and the diversity of experiences I have had this summer are what have made me excited to get up and go to work each day.
One of the most satisfying experiences I have had at Equality Ohio was the passage of Ordinance 1446-13 by the Cleveland City Council on July 13. This ordinance, which removed language from Cleveland's nondiscrimination code that made it legal for an employer or business owner to decide which restroom their transgender employees or customers could use, is something that Equality Ohio and many other activists have been working on for a long time. Since Ohio is one of the 30 states that have no statewide laws banning discrimination on the basis of sexual orientation or gender identity and expression, it is up to individual cities like Cleveland to pass laws that protect their LGBTQ citizens. Ordinance 1446 ensures that transgender people in Cleveland are protected when they want to do something as simple as using the restroom that matches their gender identity. I was grateful to have the opportunity to work with activists and with the Cleveland City Council to help ensure the passage of this important piece of legislation. However, the work of Equality Ohio is not finished with regards to this bill—we are still working with city council to educate concerned Clevelanders on what exactly this legislation does and why it is so valuable.
As I wrap up my time with Equality Ohio and in Cleveland, what stands out to me most is the dedication that people at the organization, and in the city in general, have to making their community a better and more equitable place. Ten weeks may not be a long time, but my experience this summer is certainly something I will carry with me for much longer.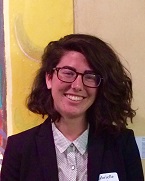 Gabrielle Maginn, a senior at Wheaton College double majoring in Women's and Gender Studies and Political Science, is a Porter Cleveland Fellow placed at Equality Education Fund Ohio.  Gabrielle assists with organizing LGBTQ rights at a state level raising nonpartisan awareness of the issues and the importance to Ohioans and Americans.