Exposing Students to Nonprofit and Public Administration Sectors
The Cleveland Foundation has conducted a summer internship program since 1999 that provides talented and diverse undergraduate students and recent college graduates an opportunity to work with Cleveland-area nonprofit and public sector organizations in an 11-week paid internship. Interns also participate in and coordinate weekly seminars highlighting key organizations and programs being conducted in the local nonprofit and public sectors.
Timeline
October – Organizations are invited to apply to host a summer intern
November/December/January – Interns are invited to apply to the program
February/March – Interviews with top candidates are conducted
March – Hiring decisions are made
June/August – 11-week job experience for interns takes place
The program's objectives include:
Offering first-hand knowledge of the Greater Cleveland nonprofit community, its leadership, and organizations.
Providing meaningful career-related work experience.
Providing a full time, paid internship opportunity ($12 per hour)
Increasing local organizations' capacity to conduct important short-term projects.
Stimulating interest in a career in the nonprofit or public sectors.
Exposing students to a broad range of public sector endeavors.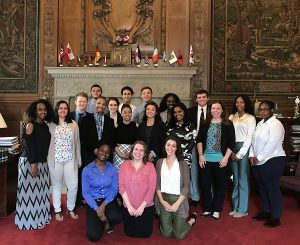 Read more about interns' projects and experiences on our blog and follow #SummerofPurpose on social media for updates. Also, check out these interviews with three of our 2015 Summer Interns:
Joyce Huang – Cuyahoga Land Bank
Khalid Ali – Cleveland Transformation Alliance
Sam Braun – Montefiore Foundation
Information for 2018 Summer Intern Applicants
Applications for the 2018 Summer Internship Program will open Nov. 13, 2017 and close Jan. 22, 2018
Semi-finalist applicants will be contacted in early February and interviews will be conducted in mid-February.
Interns will be notified of their acceptance into the program by the end of March.
The internship program begins May 30, 2018, and concludes Aug. 10, 2018. 
Host sites and project descriptions will be shared alongside the launch of the application. To review examples of previous host sites and the projects that have been completed by interns, please refer to the "Interns and Host Organizations" documents that are included under Internship Resources along the left side of the page.
Eligibility
Applicants must meet the following qualifications:
Applicants must be a college junior or senior in fall 2018 or a graduating senior in spring 2018.
If not a student attending a college or university in Cuyahoga, Lake or Geauga counties, applicants must be a permanent resident of Cuyahoga, Lake or Geauga counties.
Applicants should exhibit interest in the nonprofit or public sectors.
Applicants must not be a relative of a member of Cleveland Foundation staff or Board of Directors.
Other highly desirable qualifications include:
A strong academic record (preferably a cumulative GPA of 3.0 or above)
Strong English verbal and written communications skills
How to Apply:
(If you have registered with us in the past you can skip the registration step and go to the Login link below)
Register for access to our online application gateway by entering your name and email, and creating a login ID. An email will be sent to you within 5 minutes. Please check your spam folder. Click on the link in the email to complete the registration process.
Login (with the email address you used to register), complete the internship application and upload your documents. NEW: You will need to complete the application and upload supporting documents for each mandatory requirement before you can "submit" your application. Deadline to submit: January 22, 2018.
Required Documents (to be uploaded in .pdf format):
Resume
Most recent transcript of all your college-level study
Two letters of recommendation from individuals familiar with your academic work, employment experience or community/volunteer activities.

We recommend that you upload the letters of recommendation directly into your online application. However, if your personal reference prefers to email their recommendation to us directly, they may email us. You will then need to upload a statement identifying the reference who will be emailing a Letter of Recommendation on your behalf. We will upload all Recommendation Letters received by the application deadline.

A typed personal statement of 750 words or less, double spaced, 12 point font, 1 inch margins.  

In the essay, please describe your interest in the nonprofit or public sectors, why you are applying for the summer internship program, and your previous work and volunteer experiences. 

The essay will help the selection committee learn more about you and also evaluate your writing skills. 
Please email us if there are any problems with registration.
For questions about the program, contact: 
Stephanie Molnar, Program Associate 
Email Stephanie
216-685-4009
Helpful hints:
Have all documents required for the application ready to upload in a .pdf format (your resume, transcripts, essay and two letters of recommendation)
Start early – applications must be submitted by the deadline of Jan. 22, 2018
The application submission process (if you have all documents ready) should take about 15 minutes 
2018 Summer Internship Host Sites
Alliance for Working Together Foundation – Located in Lake County, AWT promotes the development of rewarding careers in manufacturing for the long-term success and growth of our manufacturing community.
Art House, Inc. – Founded in 1999 by local artists and residents dedicated to the belief that the arts enrich lives and help create better communities, Art House, Inc. makes art accessible to Brooklyn Centre and the Greater Cleveland community by providing instruction, encouragement, and facilities.
City of Euclid – One of the first communities established in the Western Reserve, Euclid is a large, inner-ring suburb with strong neighborhoods, increasing lakefront amenities, a growing Downtown, and a strong industrial core with a manufacturing base of over 150 companies. In 2016, the city began updating the Master Plan with the Cuyahoga County Planning Commission to create a blueprint for future projects, programs and policies.
Cleveland Transformation Alliance – A public-private partnership dedicated to growing a portfolio of quality district and charter schools, the Cleveland Transformation Alliance works to ensure that every child in Cleveland attends an excellent school and that every neighborhood has a multitude of great schools from which families can choose.
Cleveland Restoration Society, Inc. – As the largest non-governmental historic preservation organization in Ohio, CRS uses the powerful tool of historic preservation to revitalize diverse communities, strengthen the regional economy, and enhance the quality of life in northeastern Ohio.
Cuyahoga Community College Creative Arts Academy – The Creative Arts Academy offers a vibrant arts curriculum to students in the Greater Cleveland area and creates a clear pathway to college in the process, particularly through programming in dance, orchestra, and jazz.
Deepwood Foundation – Since 1996, The Deepwood Foundation has been providing assistance to Lake County children and adults with developmental disabilities and their families as a nonprofit and charitable resource.
Downtown Cleveland Alliance – Formed in 2006, the mission of Downtown Cleveland Alliance is to make Downtown Cleveland the most dynamic and compelling place to live, work, play, and visit in the region. The Alliance serves to unify the distinct neighborhoods of Cleveland's central business district under a singular vision and holistic strategy for advancement.
Economic and Community Development Institute (ECDI) – Dedicated to delivering responsible, affordable lending to help low-income, low-wealth, and other disadvantaged people and communities join the economic mainstream, ECDI invests in people to create measurable and enduring social and economic change.
Esperanza, Inc. – As the only local nonprofit dedicated to the success and promotion of Hispanic educational achievement, Esperanza plays a crucial role in the advancement of Hispanic youth through evidenced-based, culturally competent academic support services that help students persist through, and graduate from, high school, as well as scholarships to help support their postsecondary aspirations.
Evergreen Business Services – Evergreen Business Services is a stand-alone company established within the Evergreen Cooperative Corporation, focused on driving and developing new business opportunities consistent with Evergreen's mission of transforming lives and neighborhoods through wealth-building.
Fairfax Renaissance Development Corporation (FRDC) – FRDC is a nonprofit community development corporation serving primarily low to moderate income urban residents in the Fairfax neighborhood in Cleveland. One aspect of FRDC's work is to carry out community revitalization activity through the development of affordable and market rate housing.
Group Plan Commission (GPC) – GPC was revived in 2010 to reshape the heart of the city. It is committed to developing and linking signature public spaces in Cleveland including Public Square, The Mall, and Pedestrian Bridge.
Leadership Geauga County – Leadership Geauga County develops and encourages the leader in everyone. Through opportunities for personal growth, leadership development, and community engagement, current and future leaders are informed, engaged, and inspired to get involved and give back to their organizations and communities.
Policy Matters Ohio – Policy Matters, a non-profit policy research institute, creates a more vibrant, equitable, sustainable, and inclusive Ohio through research, strategic communications, coalition building and policy advocacy.
SPACES – SPACES is the resource and public forum for artists who explore and experiment, developing an interconnected community through barrier-free access to contemporary culture and providing international, national, and local artists the freedom to create remarkable works of art that help us to see the world in unexpected ways
Trust for Public Land – Founded in 1972, the Trust for Public land creates parks and protects land for people, ensuring healthy, livable communities for generations to come. As part of the Parks for People program, the Trust for Public Land's Ohio team is leading two exciting projects including Lakeview Terrace Park and Summit Lake.
University Hospitals Health System, Inc. (UH) – UH is one of the nation's leading health care systems, providing high-quality, patient-centered medical care at locations throughout Northeast Ohio. Part of UH's work has encompassed community engagement and neighborhood stability.
West Creek Conservancy – West Creek Conservancy enriches the lives of people in Greater Cleveland by conserving natural habitats, restoring the ecological value and sustainability of urban lands, and expanding neighborhood opportunities to experience nature.
Information for Host Organization Applicants
Host Site applications for the 2018 Summer Internship Program will be open from Friday, Sept. 22, 2017 through Monday, Oct. 23, 2017. 
The program provides a limited number of college students or recent graduates an opportunity to work in Cleveland-area nonprofit organizations or governmental agencies during the summer months. All interns are required to work full-time (up to 40 hours) as designated by their host organization, and agencies are encouraged to hire interns as temporary employees. 
Eligibility 
The following roles and responsibilities apply to host organizations:
Appoint a senior staff member to serve as the intern's supervisor.
Provide ample supervision, feedback and support to the intern.
Provide meaningful work and learning experiences for the intern. Past interns have worked on projects such as event planning for a major fundraising event, designing an audience demographic survey, developing a marketing/outreach plan and revising training materials.
Develop and share a work plan for the intern outlining objectives and deliverables throughout the 11-week term.
Provide a workspace and other resources (access to a computer, reference materials, telephone) needed for the intern to complete work assignments.
Accept the intern as a temporary employee of your organization for the 11-week term of the internship program. The foundation provides funding to cover the intern's stipend.
Attend a mandatory orientation at the Cleveland Foundation for selected Host Sites.
Organizations that have hosted an intern within the last two years are not eligible to apply.
Host Sites must be located within Cuyahoga, Lake, or Geauga counties. 
For questions about the program, please contact:
Stephanie Molnar, Program Associate 
Email Stephanie
216-685-4009