Make Your Greatest Charitable Impact
As your philanthropic partner, the Cleveland Foundation can help you make your greatest charitable impact through funds that are flexible, innovative and personalized. We can even help you create a giving plan and share ideas for involving your family in philanthropy.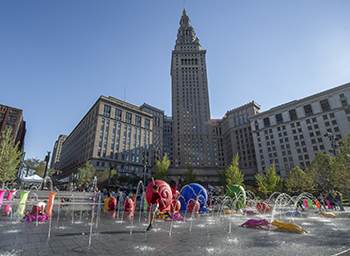 Through a partnership with the Cleveland Foundation, you will receive the flexibility, involvement, and recognition of a private foundation with the tax advantages and simplicity of a community foundation. Take a look below at the types of charitable funds that we offer.
We also offer a variety of planned gifts that allow you to give now or in the future through bequests, trusts and annuities. These instruments carry certain advantages based on your personal tax, financial and planning needs. We'll also work in partnership with your professional advisors to help you meet your goals. 
We welcome the opportunity to help you establish a fund or make the charitable contribution that best suits your needs. Contact us today to get started:
Support the Causes that Matter Most 
The Cleveland Foundation offers a variety of fund options to help you meet your philanthropic goals and respond immediately to community needs. Or, if you are interested in making a future impact through a planned gift from your estate such as a bequest or charitable gift annuity, please explore our planned giving options.
Cleveland Foundation Fund Type Comparison
TYPE OF FUND
WHAT IT IS
ADVISOR
MINIMUM AMOUNT TO ESTABLISH
NAMED FIELD­-OF-INTEREST

A permanent fund that names a specific area of interest, such as education or the arts, as the recipient of grants from the fund.

The donor relies on the Cleveland Foundation to distribute money from the fund to institutions within that area of interest.

$10,000

NAMED DESIGNATED FUND

A permanent fund that names a specific charitable institution as its beneficiary.

The donor has indicated the beneficiary in the fund agreement.

$10,000

DONOR-­ADVISED FUND

A fund offering the ability for donors to make suggestions on which charitable causes are supported from the fund each year.

Donors are permitted to make grant recommendations. This right may also be extended to children of the donor.

$10,000

ORGANIZATIONAL FUND

A fund providing stable, predictable sources of income and future financial security to a 501(c)(3) charitable organization.

The organization specifies representatives who are permitted to request distributions from the fund in accordance with the provisions of the fund agreement.

$10,000

SCHOLARSHIP FUND

A fund to provide support for young persons or those who wish to continue education later in life.

The Cleveland Foundation appoints scholarship committee members; donors are permitted to recommend members based on objective criteria.

$25,000

$250,000



SUPPORTING ORGANIZATION

An alternative to a private foundation that has its own board of trustees and grantmaking identities, but enjoys public charity status.

The board of directors of the supporting organization makes its own grantmaking decisions.

$5,000,000