Francona, Entire Roster, Coaches, Support Staff and Indians Ownership unite to provide assistance and resources to help curb youth violence
The 2016 American League Champion Cleveland Indians Manager Terry Francona, on behalf of the entire Indians clubhouse, announced on October 5, 2016, the creation of The Larry Doby Youth Fund and a donation of one million dollars to provide assistance to the underserved youth of the City of Cleveland.
"As many are aware, Hall of Fame Cleveland Indian Larry Doby was the first African-American to play in the American League. He endured many unfair hardships and challenges, and handled everything with the professionalism and grace that defined him. It is in Mr. Doby's spirit we have created The Larry Doby Youth Fund," said Francona.
Announcing $1 Million in Grants from The Larry Doby Youth Fund

America SCORES Cleveland: After school soccer and journal writing

Baseball Heritage Museum: League Park Baseball History youth programming

Big Brothers Big Sisters of Greater Cleveland – Bigs in Blue: Mentoring relationships with 4th District police and youth
Boys & Girls Clubs of Cleveland: Building Bridges between youth and law enforcement

Cleveland Peacemakers Alliance: Mentoring relationships for youth with police officers
Cleveland Police Athletic League: Activities that engage police officers and youth
College Now Greater Cleveland Inc.: College and career advising program for 600 John Adams High Schools
East End Neighborhood House Association: My Sister, My Brother – afterschool program for 7th and 8th graders
Esperanza Inc.: Mentoring programs
Friends of Breakthrough Schools: Support for 11 high performing charter schools
Golden Ciphers: Out of school time programming
Lutheran Metropolitan Ministry: Health and crime prevention education programs
The NewBridge Cleveland Center for Arts & Technology: After school youth arts programming
OhioGuidestone: Youth and police development programming
Partnership For A Safer Cleveland: IMPACT 25 Youth Commission
Providence House Inc.: Emergency shelter for children in crisis
University Settlement Inc.: SmartY's program
Youth Opportunities Unlimited: Summer job program for youth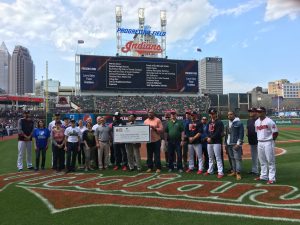 "We have enjoyed a special season here in Cleveland because of the incredible group of individuals in our clubhouse. They are committed to the city in which they live and work and have generously donated to The Larry Doby Youth Fund," said Francona. "We are very fortunate to be a part of Major League Baseball and we accept the social responsibility that comes with that—to use our resources to directly make an impact on the underserved youth of our community, to make our community better."
Every player on the Cleveland Indians roster, our coaching staff, all members of our support staff, along with extreme caring and commitment of Indians Owner Paul Dolan and Minority Owner John Sherman have generously donated to this important initiative.
The Larry Doby Youth Fund will be administered by the Cleveland Foundation, and work with youth-focused community organizations to provide educational assistance and resources to help curb youth violence that is all too prevalent. 
"Larry Doby is an icon in our community, and the Cleveland Indians are true champions for continuing his civic legacy at all levels of the organization," said Ronn Richard, President and CEO, Cleveland Foundation. "By giving back to Cleveland and serving their youngest fans, the Cleveland Indians and their uniformed personnel in this instance demonstrate once again why we are proud to root for the home team."  
About Cleveland Foundation
Established in 1914, the Cleveland Foundation is the world's first community foundation and one of the largest today, with assets of $2.1 billion and 2015 grants of $95 million. Through the generosity of donors, the foundation improves the lives of residents of Cuyahoga, Lake and Geauga counties by building community endowment, addressing needs through grantmaking, and providing leadership on vital issues. The foundation tackles the community's priority areas – education and youth development, neighborhoods, health and human services, arts and culture, economic development and purposeful aging – and responds to the community's needs.