Organizational Funds at the Cleveland Foundation
It seems that just when a charitable organization is needed most by its constituents, funds from private, philanthropic and government resources become all the more difficult to obtain. Forward-thinking board members and staff of charitable organizations are discovering the need to establish stable investments that look to the long-term needs of their organizations. 
Celebrating Organizational Fund Partner Appreciation Week April 29-May 5!
Look for our ad in Crain's Cleveland Business: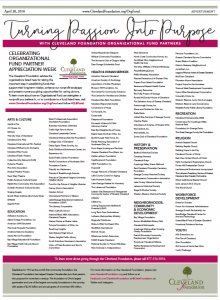 Organizational Partner Benefits
An organizational fund through the Cleveland Foundation can serve both as part of an organization's funding mix and as a long-term growth strategy. Cleveland Foundation staff can assist your organization in establishing an organizational fund. The benefits of establishing a Cleveland Foundation organizational fund include: 
Access to large investment pools with low fees and proven strong investment stewardship
Planned giving expertise and sophisticated giving vehicles such as charitable gift annuities, charitable remainder trusts and charitable lead trusts
Positive brand affiliation with the foundation by virtue of having an organizational fund backed by the services and reputation of the Cleveland Foundation
Assigned donor relations advisor providing customized services, including access to the foundation's Advancement team with decades of legal, tax, grantmaking and development experience
The foundation also offers its organizational fund partners secure online giving directly to their fund through the foundation's "Give Now" menu. All gifts are income tax deductible at the highest levels allowed, and the foundation provides gift receipts or gift acknowledgment letters to every donor.
While comingled for investment, the organization's fund will not be used for other purposes. All gifts and earnings will be restricted for the organization's benefit only. The foundation provides all investment management and oversight, including all accounting and financial reporting.  
To learn more, please contact a member of the Cleveland Foundation Advancement team at 877-554-5054.
Cleveland Foundation Organizational Fund Partners
Arts & Culture
Apollo's Fire engages widespread audiences performing 17th- and 18th-century baroque music on the period instruments for which the music was written and promotes a fresh and lively approach to historically informed performance.
Our mission is to make art accessible to Brooklyn Centre and the Greater Cleveland community by providing instruction, encouragement, and facilities.
The Bedford Historical Society was founded in 1955 to collect, preserve and interpret the history of the original Bedford Township, whose communities include: Bedford, Bedford Heights, Maple Heights, Oakwood Village and Walton Hills, as well as portions of the Western Reserve. We serve to enrich the lives of our community members and those individuals interested in history through programming, exhibits and educational outreach to member communities and institutions.
The City Club of Cleveland's mission is to create conversations of consequence that help democracy thrive.
Cleveland Arts Prize's mission is to: identify, reward, publicly honor and promote those creative artists whose original work and accomplishments have set a standard of excellence to which other artists can aspire; as well as recognize the contributions of individuals and organizations that have expanded the community's participation in the arts and helped make the region more hospitable to creative artistic expression.
The mission of the Cleveland International Film Festival is to promote artistically and culturally significant film arts through education and exhibition to enrich the life of the community.
The Cleveland Philharmonic Orchestra provides a quality musical and educational contribution to the Northeast Ohio community by skilled and dedicated musicians from all walks of life. The orchestra performs symphonic music at a high artistic standard in an environment that is welcoming for audiences and musicians.
Cleveland Play House's mission is to inspire, stimulate and entertain diverse audiences across Northeast Ohio by producing plays and theatre education programs of the highest professional standards.
Cleveland Public Theatre's mission is to raise consciousness and nurture compassion through groundbreaking performances and life-changing educational programs.
The Collective Arts Network aims to foster collaboration among visual arts organizations of Northeast Ohio on communication and other projects, including publication of CAN Journal, CANjournal.org and other projects.
Credo Music nurtures the growth of young musicians to help them become musical and community leaders. Its mission – "Develop the Gift, Acknowledge the Source, Respond with Service" – is fulfilled by working toward the following goals: provide professional level musical instruction to students, encourage students to recognize their talents as a gift, requiring a response through service, and cultivate community service through outreach projects and concerts.
Dobama Theatre's mission is to premiere the best contemporary plays by established and emerging playwrights in professional productions of the highest quality. Through educational and outreach programming, Dobama Theatre nurtures the development of theatre artists and builds new audiences for the arts while provoking an examination of our contemporary world.
Fine Arts Association's mission is to serve the community by enhancing lives through arts education, therapies, performance, community partnerships and advocacy.
Near West Theatre builds loving relationships and engages diverse people in strengthening their sense of identity, passion, and purpose, individually and in community, through transformational theatre arts experiences.
The Ohio Scottish Games Endowment Fund
Polish-American Cultural Center Fund
RRCAA is a comprehensive fine arts organization providing year-round instruction in all the major disciplines of the fine and performing arts as well as numerous arts and cultural opportunities to the public.
Singing Angels mission is "to encourage, foster and cultivate positive youth development by engaging youth from all communities in quality music and performing arts education that teaches discipline, builds confidence, and provides a foundation for life — Making Music, Making Friends, Making a Difference."
SPACES is the resource and public forum for artists who explore and experiment.
Zygote Press is an artist workshop promoting fine-art printmaking. Through advocacy, exhibitions, community workshops & festivals, we encourage collective exchanges between artists and the public. Here, artists find affordable, professional workspace and support for their practice.
Education
Health & Human Services
History & Preservation
Neighborhoods, Community, & Economic Development
Recreation
Cleveland Championship 2000
Conservancy for CVNP's mission is to engage public support and provide services to enhance public use and enjoyment of the park.
The Great Geauga County Fair is Ohio's oldest continuous county fair and one of the oldest existing agricultural fairs in the nation.
Religion
Antioch Baptist Church's mission is to lead others to a relationship with Jesus the Christ.
Building Hope in the City is restoring the city to God by developing and linking people, communities and congregations.
Being empowered by the Gospel, the mission of Chaplain Partnership is to bring the promise of hope, healing, wholeness and balance to persons experiencing the blessings and brokenness of human life. Chaplain Partnership is a unique service agency providing comprehensive spiritual care services, primarily in hospitals and long-term care settings. We are one of only a few similar agencies in the country providing this kind of service, and the only one in Ohio.
The Cleveland Church of Christ Citadel of Hope Ministries seeks to create a haven that inspires hope and fosters spiritual, social, economic revitalization and stability within the Glenville community and the Greater Cleveland area, thereby improving the quality of life for church members and area residents.
East View United Church of Christ
Faith Cumberland Presbyterian Church has ministries to help individuals build relationships, feel a sense of belonging, and create a community pleasing to Our Heavenly Father.
St. James A.M.E. Church's mission is to gather and grow fully mature followers of our Lord and Savior Jesus Christ through life changing worship, the love of God expressed by a family oriented congregation, the Lordship of Jesus Christ over our time, talents, tithes, and offerings, holistic ministries that promote core values of discipleship, spirituality, family, education, stewardship, service, and evangelism.
Forest Hill Church's mission is discovering God's call, celebrating the Spirit's presence, and witnessing to Christ's transformative power!
Lee Memorial Endowment Incorporated
Olivet is a Christian community which embraces the universal values of love and justice, expressed through the life and ministry of Jesus Christ.
The Word Church's mission is a call of outreach carried out through the heart of Pastor Vernon and the members of The Word Church.
Workforce Development
Youth
First Tee of Cleveland's mission is to positively impact the lives of young people by providing educational programs that build character, instill life-enhancing values and promote healthy choices through the game of golf.
Ginn Foundation
Youth Challenge brings together young people with physical disabilities and teen volunteers who inspire each other through adapted sports, recreation and social growth activities.