Economic Transformation
The city of Cleveland has a disproportionate share of the region's employment and population loss. Our goal is simple: Ensuring Cleveland's resurgence is generating economic opportunities for all its residents.
We do this by nurturing the economic health and vibrancy of the core city, and aligning its people to the economic opportunities of the region.
RECENT GRANTS
WIRE-Net, $173,172
To expand the apprenticeship consortium to add two occupations (Computer Numeric Control Machinist and Industrial Manufacturing Technician) and recruit companies and apprenticeship candidates from Cleveland and its inner ring suburbs. WIRE-Net will recruit candidates for at least 50 apprenticeship slots with at least 35 consortium employers, recruiting 30-percent women or minority candidates and at least 35-percent representing core city of Cleveland residents. 
Growth Opportunity Partners, $200,000
To enhance small business performance, outcomes and impact in the low to moderate income (LMI) communities of Cleveland and Cuyahoga County through loans paired with ongoing technical assistance, leading to meaning wage jobs.
Nurturing the economic health of the core city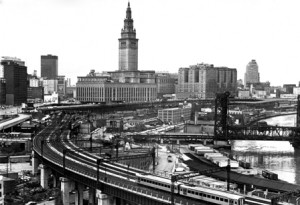 To achieve inclusive economic growth, the foundation directs its grantmaking and leadership to nurture and leverage a portfolio of industry clusters. Cleveland has the potential to host a series of thriving, high-tech, high-growth clusters as well as local, nontraditional clusters that hold potential for job creation in the near term. Possibilities include biomed, health IT, manufacturing, food processing, film, and business-to-business. To encourage growth of regional or local clusters in the city, the foundation aims to plug capital gaps and help the city meet the land, building and talent needs of target companies. 
Examples include:
Grant support to BioEnterprise to identify and evaluate promising health IT technologies and launch local companies based on those technologies, and to dive deeper into the specific software development and computer programming needs of Cleveland's health IT industry.

Grant support to nurture a partnership between MAGNET and WIRE-Net for deepening the outreach and growth services to Cleveland-based manufacturing companies.
A program related investment in a Broadband Innovation Fund managed by DigitalC, supporting early stage companies in the promising new industry of Information Technology and leveraging the region's fiber asset.
Leveraging our manufacturing capabilities and our lake and its wind power, the foundation is playing an instrumental role in seeding a wind power industry through the establishment of LEEDCo.
The foundation is also pursuing the creation of centers of economic activity such that these hubs leverage regional and local clusters, engage and employ neighborhood residents, and build off public transit assets so people can get to the jobs being created. A perfect example is occurring in the Health Tech Corridor in the MidTown district. Other emerging areas with potential are the West 25th Street Corridor and the East 55th Street Food Corridor.
A third and critical approach to inclusive growth is to nurture entrepreneurship and business growth, particularly in core city neighborhoods, supporting minority entrepreneurship and employment. One example of this is through micro-lending, where the Cleveland Foundation was instrumental in identifying the demand-supply gap for micro-loans and subsequently enabled the expansion of the Columbus-based Economic and Community Development Institute (ECDI) to Cleveland in 2012.
ECDI brings capital training and technical assistance to neighborhood businesses, supporting minority companies including women-owned firms. As another example, JumpStart, a long time grantee of the foundation, has recently launched a core city program to further increase outreach to entrepreneurs – both tech and non-tech. For more established businesses with larger capital needs, it offers capital and technical assistance through its affiliate Growth Opportunity Partners, leveraging foundation grant funds and a Program Related Investment.
In these and other ways, the foundation is working to build what is considered the demand side of the equation, generating jobs and demand for workers in the core city. 
Balancing the supply side, or human capital part, of the equation

Unfortunately, Cleveland fares worse than the rest of the country on many important indicators, including labor force participation, employment rates, educational attainment levels, and poverty rates. One of the most disturbing aspects is that even those Clevelanders who have post-secondary education are experiencing high rates of poverty, with African-American men most at-risk.
To address these challenges, the foundation has taken a number of steps to align the area's education and training offerings with career opportunities that will provide access to family sustaining wages for Cleveland citizens. Informed by career technical education models in Europe, particularly around career exposure and experimental learning, the foundation has helped launch True2U, an 8th grade career exploration and mentoring program created by the foundation's youth initiative, MyCom, Cleveland Metropolitan School District (CMSD), the Greater Cleveland Partnership (GCP), and several other community partners. 
Transforming traditional vocational high schools into 21st century career academies has become a priority of CMSD, with the support of GCP, the Henry Ford Learning Institute and the foundation. A key tenet of an effective career-focused educational system is the engagement of employers, and the foundation has supported the launch of Pathway Partners, an initiative of the Greater Cleveland Partnership focusing on college and career readiness for Cleveland students. All of this work has been informed by a demand-supply gap analysis commissioned by the foundation.
In addition to aligning education and training offerings to job opportunities, it is important to create access – particularly to in-demand jobs in industries that pay family sustaining wages. Sometimes, residents simply don't have the networks they need to access jobs in the community and build careers. One way to address this issue is to better link workforce intermediaries to economic development and community development organizations.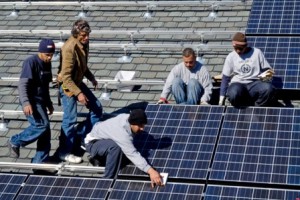 The foundation is currently funding a two year program Talent NEO to pilot a skills-based hiring initiative to create access to jobs without traditional credential barriers. Towards Employment plays the lead role, with economic development organizations bringing sector-expertise, and community based organizations helping with outreach and assessment, particularly to traditionally marginalized populations. As another way to get at this issue, the foundation is supporting MAGNET's Early College, Early Career program for the design phase of an apprenticeship style model for students in high school to engage with manufacturing employers.
In all the efforts outlined above, the foundation is driven by a single measure of success: not just growth, but inclusive growth that benefits residents throughout the community. We could not do this without our operational and funding partners, and without the support of our donors.