As Times Have Changed, So Has
the Cleveland Foundation's Grantmaking
With an endowment of $1.8 billion, the Cleveland Foundation gives away about  $80 million annually to causes important to the Greater Cleveland community. Almost half of those charitable dollars are recommended by donors to specific causes; the remaining half is directed by the foundation's board and staff to priority areas where the community is most vulnerable.
The Cleveland Foundation gives away some $80 million annually,
with about half of those charitable dollars directed by board and staff.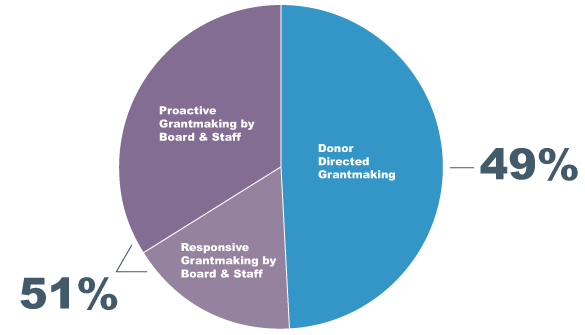 Responsive
grantmaking
Most people familiar with the Cleveland Foundation know about our responsive grantmaking. The Cleveland Foundation contributes   flexible grant dollars to respond to the expressed needs of the community. Nonprofit organizations often look to the Cleveland Foundation for our leadership and financial support to help them meet needs and test new ideas for the benefit of Greater Cleveland and its citizens.
Priority is given to programs that reflect one or more of the following:
Improve access to services and programs for vulnerable and underserved populations
Strengthen nonprofit organizations
Test new ideas and different partnerships
Support policy and advocacy
Proactive
grantmaking
To fulfill our mission to improve the lives of Greater Clevelanders, we must direct our efforts and dollars into long-term solutions to our biggest problems. With the guidance of our board of directors, the Cleveland Foundation is steering the majority of our flexible grant dollars into priority areas vital to our community's long-term well-being.
These are the Cleveland Foundation's priority areas:
Economic development
Public education reform 
Neighborhoods and housing
Youth development and human services
Arts and culture
Revitalizing Greater University Circle
Donor directed grantmaking
The Cleveland Foundation is thankful for the opportunity to partner with our generous donors to help them meet their philanthropic goals while also responding to community needs  As a result, more than half of the dollars distributed by the foundation each year are directed by our donors.
Donor directed grantmaking is distributed through the following types of funds:
Areas of Greatest Need
Named Field of Interest/Designated Fund
Named Designated Fund
Donor Advised Fund
Organizational Fund
Scholarship Fund
Supporting Organization