Recognizing the Importance of Young People
The Cleveland Foundation recognizes the importance of children in our society, and has created programs focused on early childhood (birth to 5 years) and youth development (kindergarten through graduation).
Early Childhood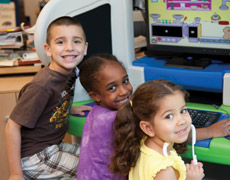 The Cleveland Foundation has invested in several large initiatives to get young children ready for school, including: 
Invest in Children is a community-wide partnership created in 1999 to ensure the well-being of all young children in Cuyahoga County. Invest in Children promotes effective parents and families through home-visiting programs and works to enroll young children into Healthy Start and Medicaid, federally funded programs. Their Universal Pre-Kindergarten (UPK) program develops high quality early learning programs in childcare centers and family childcare homes.
Jones Road Church – Literacy Through the Arts Program from Cleveland Foundation on Vimeo.
Pre4Cle is a public-private partnership between the Cleveland Metropolitan School District (CMSD), Cuyahoga County, and private funders to increase the numbers of high quality preschool slots in the City of Cleveland. This is a major component in the Cleveland Plan. So far Pre4Cle has added an additional 2,000 high quality slots for children in Cleveland. 
2,000 Days helps to connect parents to knowledge and resources for children during the 2,000 days between birth and age five. An interactive website, a pledge with parents and pre-school teachers, and text messaging on different developmental stages and activities help parents expose their child to experiences to help them thrive and prepare for school.
Youth Development (MyCom)
In 2006, the Cleveland Foundation identified youth development as a priority area. Following two years of planning, convening and implementing, MyCom launched as Greater Cleveland's commitment to positive youth development.
What is MyCom?
MyCom – My Commitment, My Community – is a network of people and organizations that aims to connect youth to caring adults and quality activities to build 21st century skills. 
MyCom Mission
To connect young people in Greater Cleveland with positive experiences and caring adults they need to lead good lives, supplementing the parenting and education of our young people.
MyCom Vision
By inspiring and preparing young people in Greater Cleveland to reach their potential and contribute to their community, MyCom will be a key success factor in their lives. 
How does MyCom work?
MyCom connects the dots – making it easy for young people and their families to find and access a variety of services in their neighborhoods and beyond. MyCom launched neighborhood pilot programs in:
Bellaire/Puritas
Central
Cudell/West Boulevard
Mount Pleasant
Parma Tri-City 
St. Clair/Superior
Shaker Heights
Slavic Village
Since those 8 pilots launched, an additional 13 neighborhoods have been added:  
Buckeye-Woodland
Clark-Fulton
Collinwood
East Cleveland
Glenville
Kinsman
Lee-Harvard 
Maple Heights
Ohio City 
South Euclid
Tremont
Union-Miles
Warrensville Heights
Services provided through MyCom include: out of school time programs, youth employment, youth engagement/leadership, community service. MyCom also helps organizations better serve youth through evidence-based practices, in part by involving young people in the planning process to ensure that programs and services match real needs. 
How can I learn more about MyCom?
Call the MyCom line at 216.812.8700
Other Youth Programming Support 
Cleveland Peacemaker's Alliance
The Cleveland Foundation supports the Cleveland Peacemaker's Alliance, under the leadership of the Boys and Girls Clubs of Cleveland. The Peacemaker's Alliance provides city residents with caring, committed and competent individuals trained to offer crime prevention and conflict mediation to youth and young adults who are at risk of, victims of, and/or perpetrators of street violence. 
STANCE
STANCE (Stand Together Against Neighborhood Crime Everyday) aims to build, strengthen and expand partnerships with community-based, governmental and private sector institutions that are committed to serving high-risk and violent youth with evidence-based programs and services for the prevention and reduction of violence in Cleveland and Northeast Ohio. STANCE focuses on "high risk" youth who engage in behaviors that promote violence. The Cleveland Foundation has funded the Partnership for a Safer Cleveland, which manages this program. 
PAR
PAR (Police Assisted Referral) builds on the fact that police are the first social responders and that 80% of police responses are to non-arrest situations. PAR allows police to refer families to human service agencies that help families identify range of services and supports. This model has led to a reduction of police calls and police are viewed as community helpers. The Cleveland Foundation funds this program in partnership with St. Luke's Foundation and Sisters of Charity Foundation.